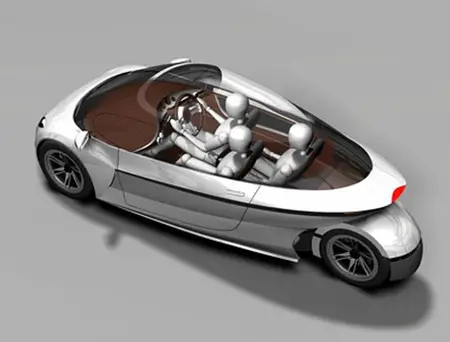 ... Instead of losing billions!
Is a Smart ForTwo the clever thing to do? Not used for long-distance travel because of the restricted carrying capacity and choppy ride due to its short wheelbase, ForTwo's significance lies in reaching your destination in and around town. Besides having
a limited operational reach,
city cars like the ForTwo need to compete with either public transport or the bicycle and scooter.
There's of course the ForFour. Both Smart cars seem to do well in sales (excl. Car2Go?). Will they continue to do so? No car journalist thought that the ForFour is suited to carry four over long distances, nor is it economical to justify its choice. Perhaps even worse, four-passenger city cars like the VW Up and Hyundai i10 are considered the better car. Perhaps the search is for a 'jack of all trades'. Sleek enough to sneak through city traffic and find a parking spot, yet safe, comfortable as well as economical enough for long-distance travel. And more (driverless for instance).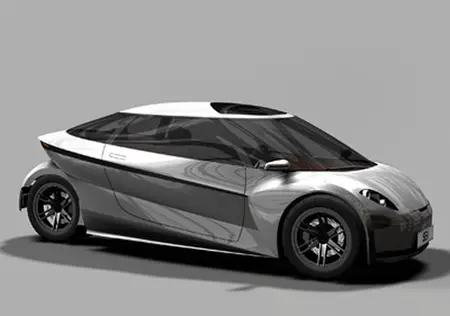 How? First of all, it needs to be
a 'looker' you want to use, rent, own and wish to be seen in.
Hence, create

m
ore comfort by extending the wheelbase, more safety for three passengers than the ForFour is able to offer.
E

nhance Fahrvergnügen by making it bank during cornering. Improve energy efficiency by making it lighter and more streamlined
. Yet, with its limited luggage capacity, Mercedes needn't worrry, that it will replace its saloon cars, SUVs and MPVs.
ForTwo, ForFour or
ForThree*
?
Rate them by the
wanna rent/lease/own /
share
index:
usability |comfort|safety|costs|ecology| Fahrvernügen
Smart ForThree ~ Vision Mission Recipe
1.
T
he traditional two-row seating layout forces automakers to use a box-type frame. A pod-like shape is inherently stronger than a box shape
(reason why tunnels and airplanes are built cylindrical).
The resulting 'Smart ForThree' (no shoulder to shoulder) seating layout ensures class-leading impact safety and 360
°
visibility. E
nough margins to the side. Driver seated 'on the other side' (here's why) makes for a safer entry too.
The tapered rear-end forms an additional safety feature in case of a rear-impact.
Ever hit a traffic pole or tree?
2.
Because of the intrinsically rigid shape, lighter materials can be used. Combined with the low drag body, this results in unparalleled energy efficiency, regardless the type of propulsion. As far as electric: a game-changing development would be to use the fast-charging batteries Stanford University (April 7th 2015) claims it is developing. Since Stanford's
aluminum battery has a lower energy density than the lithium-ion type, it may benefit vehicles with a low dry weight. There is still a long way to go.
3.
The unusual long wheelbase equals more ride comfort (no choppy ride like in similarly sized hatchbacks).
4.
The form-follows-function looks not only makes it standout at shows and in the media,
autonomous
drive
'comes natural' to a vehicle that's compact and sleek.

Split-lane use in a brick-like formation will be a piece of cake for instance (see picture below).

When the driver has a feel for a car's outer dimensions, as opposed to driving a big SUV, he/she will feel more at ease when the auto-pilot is switched on.

There's less surface area, less risk to run into other road users, and vice versa.

All in all the vehicle described here presents a better basis for self-driving than Google's robo car... Why not get it right the first time?
5.

Want to enjoy the vehicle in 'manual mode'? Well, a long wheelbase, combined with a narrow track, forms the best excuse to have yourself a vehicle that banks during cornering (to offset the weight shift, counter lateral forces), which results in handling no other car has. It does make for this vehicle's most challenging engineering task: predictable, safe, fun cornering behavior.
6.

Better get ready for a future in which
governments aren't willing to subsidize
low/zero emission cars as generously as they do now. You might call it
Tesla's Achilles heel
. If they do, the formula
lightweight + sleek = energy-efficient + low/zero emission
won't be hurt.
If they
will
cut back, this one will be prepared.
Last but not least,
youth losing interest in cars should bring the industry to r
ethink the 'auto-mobile' altogether.
Also read: Driverless and Car Sharing urge the industry to become more creative.
*
Automotive experts already acknowledged the 'outside the (car) box' vehicle described/depicted here as a viable alternative, and doable to engineer. Auctor intellectualis (and IP holder) Ralph Panhuyzen was involved with the scientific study on car mobility (ISBN-13: 978-90-442-0015-7) in the Netherlands (one of the most densely populated countries in the world) which was held under the auspices of the NWO, the Netherlands Organization for Scientific Research. NB: this presentation is put together for assessment and publicity purposes only. Unauthorized use forbidden. The New Isetta aka Smart ForThree is not an open source project, and formally OHIM registered. If in doubt about the semantics of what is
"authorized"
(literally: of, by or from the author) and what is not (presenting or using what has been created by someone else as if it were yours) consult a legal expert.
Plagiarism
is a sensitive subject
in Germany in particular
.
Global Auto-mobile 2.0 - Vision, Mission, Recipe
The established car brands have long been shielded from the "change or perish" rule. No longer. In a relatively short period of time we have seen electric propulsion hit it off, new manufacturing methods and new materials make their debut, new automakers enter the arena, fuel efficiency and emissions standards become more demanding, urbanization accelerate (requiring/challenging everyone to do more with less), connectivity technology open up new possibilities, and consumer preferences changing mainly under the influence of new and social media. In the author's opinion, any global brand or alliance may step up to the plate of marketing and selling new-generation 'personal transportation devices'. Perhaps even develop. Could be an electronics producer, a rental agency, a retail chain, an energy company, or a determined Silicon Valley-type visionary like Elon Musk. Who's next? Google? Apple? Not to worry. Could be quite interesting actually. It might mean that car companies can become facilitators, providers, partners as well, next to their traditional role as developers, makers and sellers of automobiles...